KS3 & KS4 Computing
Computing Curriculum
KS3 & KS4 Computing
Computing Curriculum
At the City of Peterborough Academy we recognise the digital revolution which has changed the way we interact with our world. Personal computers have revolutionised communication, creativity and productivity. It is therefore essential that pupils become confident, creative and productive users of ICT. We aim to offer all our pupils a broad and balanced Computer Science curriculum education, which equips all of our pupils with skills such as computational thinking, logic and creativity. Our dedicated ICT suites have industry standard software applications and are staffed with Computer Science specialists.
We believe that Computer Science and ICT should empower pupils, providing them with the skills they require to excel in the modern workplace and in society itself. At KS3 pupils are able to apply their knowledge to real world scenarios and projects, allowing them to explore the potential of the technologies available to them in society.
The Computing curriculum units of work cover the following four areas:
Digital Creativity
Digital Citizenship
Digital Literacy
Computing
The Computer Science curriculum at the City of Peterborough Academy is cross curricular, linked with mathematics, science and design technology. It provides all pupils with an insight into both natural and artificial systems, enabling pupils to acquire transferable skills and knowledge.
Pupils are expected to learn the following:
Understanding and applying fundamental principles and concepts of computer science, including abstraction, logic, algorithms, and data representation;
Being able to analyse problems in computational terms, and have repeated practical experience of writing computer programs in order to solve them;
Critically evaluate and apply information technology, including new or unfamiliar technologies, to solve problems;
Becoming responsible, competent, confident, and creative users of information and communication technology
KS3 Curriculum
Year 7
Pupils will learn about online safety, the hour of code, pupils demonstrate how to use the Internet effectively. Learners develop key skills in a range of office and media based packages, applying these skills to present work to a range of diverse audiences. Software will include Microsoft Office, Adobe Photoshop and Movie Maker. At the end of the year, pupils are introduced to the concept of Control, with an opportunity to use MSW Logo and Robots in lessons. Pupils are introduced to visual programming languages through the use of the Raspberry Pi and Scratch.
Year 8
Pupils further develop their skills of visual programming in Scratch and Kodu. They are also introduced to the text based programming languages Python and Java Script which allows them to create their own software and simplified games. Pupils will build upon their presentational skills using of the industry standard Adobe Creative Suite, with the use of Flash to create animations and multimedia presentations, and the use of Photoshop and Flash to manipulate and create bitmap and vector images, for digital and print media. Pupils look at ICT in the media using Dreamweaver to build websites. They also hone their analytical skills by demonstrating how to use Databases and Spreadsheets for a given purpose and need.
KS4 Curriculum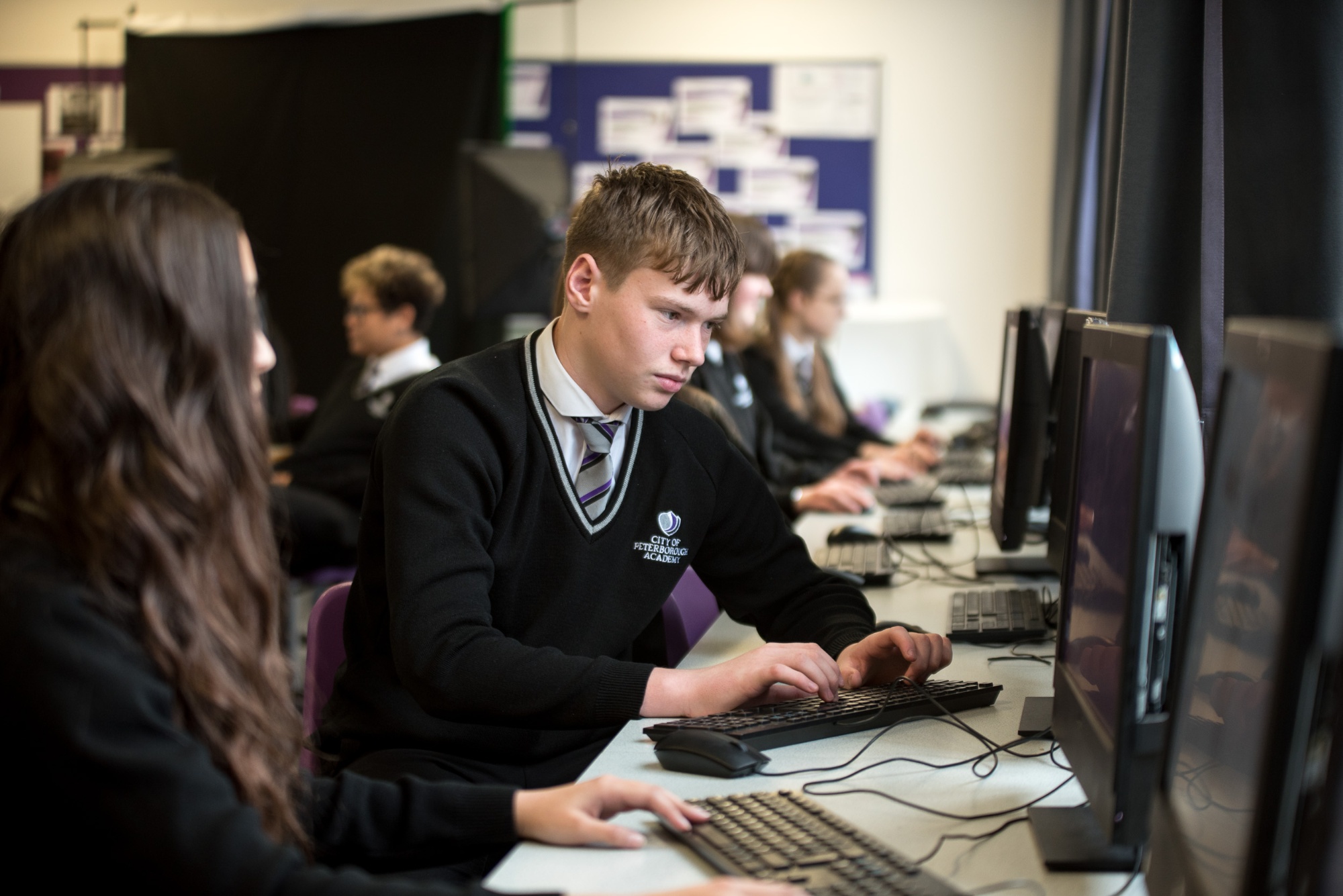 At KS4 students are offered a Level 1/ Level 2 Vocational path this is studied over three years from Year 9 to 11. Students leave with a Pass, Merit or Distinction grade.
Course name - OCR Cambridge National Creative I media ICT
Course Description - Successful candidates will develop skills in:
the purpose and uses for pre-production documents;
interpreting client requirements;
identifying timescales for production;
how to conduct and analyse research;
identifying the target audience;
how legislation applies to ICT;
reviewing products;
understanding the purpose and properties of digital graphics, multipage websites and digital video sequences
Units studied over the three years
Year 9

R081 Exam unit

Year 10

R082 Creating Digital Graphics

R085 Creating a Multipage Website

Year 11

Optional unit
Computing Staff
| | |
| --- | --- |
| Teacher of Computer Science & Business Studies | Mr A Hunneyball |
| Teacher of Computer Science & Business Studies | Mrs F Perveen-Sabeel |
| Teacher of Computer Science | Mrs H Buckman |
| Teacher of Computer Science & Business Studies | Mr J Dhesi |