KS3 & KS4 PE
KS3
The Physical Education Department at the City of Peterborough Academy is dedicated to providing as many sporting opportunities for COPA pupils as possible. This, as well as our outstanding facilities, allows us to focus upon what is at the heart of our department - helping drive standards up in PE and across the school as a whole.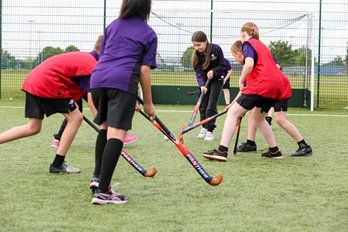 We offer a diverse and exciting core PE curriculum that meets the physical, emotional and social needs of all our pupils.
PE in general teaches pupils about code of conduct, etiquette, handshake before and after matches, applauding the opposition, fair play, unwritten rules and sportsmanship. In every lesson pupils abide by the rules and regulations, gaining a good understanding of rules of sport and the importance of infringements such as penalties and red cards. This allows pupils to understand the consequences of their actions which in turn helps pupils apply this understanding to their own lives.
The concepts of self-discipline to excel are essential. Pupils are taught that the only way you can achieve in sport to a high standard is if you work hard and if you can discipline yourself to train and apply yourself.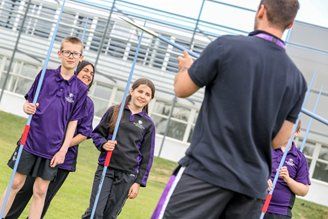 In KS3, pupils participate in blocks of learning that focus on developing how to improve their individual skill but also what they need to learn in order to progress. Pupils are therefore formally assessed at the end of each unit of work in line with the National Curriculum Levels. Throughout the year pupils have opportunities to participate in activities such as Hockey, Netball, Cricket, Football, Athletics and Basketball. Key concepts of sports – both traditional and modern. Assessment for learning is at the heart of all the pupils' lessons, as we feel that for pupils to truly progress in this subject they need to learn not only
KS4
Pupils will be following a new GCSE Physical Education specification that will inspire. New and contemporary topics will help pupils of all abilities to develop a well-rounded skills set and prepare them for progression to further studies.
GSCE PE practical and theory lessons help to embed knowledge and allow pupils to demonstrate what they have learnt in an exercise based situation.
The course will enable pupils to improve their physical competence in a variety of sports and fitness activities.
Pupils will learn to train, test and manage their body, making improvements to fitness levels where appropriate.
Assessment
The content:
Paper 1: The human body and movement in physical activity and sport
Makes up 30% of the final grade.
Questions on Applied Anatomy & Physiology, Movement Analysis, Physical Training.
Paper 2: Socio-cultural influences and well-being in physical activity and sport.
Makes up 30% of the final grade.
Questions on Sports Psychology, Socio-Cultural Influence, Health, Fitness & Well-being
Non-examination assessment: Practical Performance in Physical Activity & Sport
40% of the GCSE final grade.
Practical performance in three different physical activities in the role of player/performer (one in a team activity, one in an individual activity and a third in either a team or in an individual activity).
For each of their three activities, pupils will be assessed in skills in progressive drills (10 marks per activity) and in the full context (15 marks per activity)
Pupils will be assessed on their analysis (15 marks) and evaluation (10 marks) of performance to bring about improvement in one activity.
Analysis and evaluation of performance to bring about improvement in one activity.
OCR Sport Science
OCR Sport Science is a Level 2 qualification aimed at pupils who are looking to study sport though a vocational pathway. Unlike GCSE PE which is graded 1-9, OCR Sport Science is graded Pass, Merit, Distinction. Pupils are assessed through their coursework (75%) and a written exam (25%).
There are four units which Pupils will study:
The Training Principles (Coursework 25%) – Pupils will learn about different training method, how to test their fitness levels and design their own training programme.
Sport Psychology (Coursework 25%) – Pupils will learn about aspects of motivation, personality, aggression and how they affect sporting performance.
Sports Nutrition (Coursework 25%) – Pupils learn about the nutritional demands of sport and create a diet plan to affect sports performance.
Responding to Sports Injuries (Written Exam 25%) – Pupils learn how to identify and treat sports injuries and common medical conditions.
Staff
Standards and Progress Lead / Teacher of PE Mr J Morris
Teaching and Learning Lead / Teacher of PE and Maths Ms D Butler
Senior Assistant Principal / Teacher of PE Mr J Ferrara
Teacher of PE Mr F Vaughan
Teacher of PE and Science Miss S Convertino
Teacher of Dance Miss K Stevenson
Teacher of Dance Miss L Donnell