PSHE

PSHE plays an important part in our Curriculum at the City of Peterborough Academy. The subject is connected to people, our environment, the wider world, belief systems (religious and non-religious), relationships, communication, diversity, cultures, morality and prepare our pupils for life beyond school.
PSHE is key in providing our pupils with the knowledge and understanding of the world around them. Our aim, through studying and participating in the PSHE Curriculum is to equip and nurture our pupils to become well rounded, responsible, independent individuals. Our revised PSHE Curriculum will promote our pupils to become citizens who can benefit and contribute in a fully positive way to our communities and the wider world living in the twenty-first century.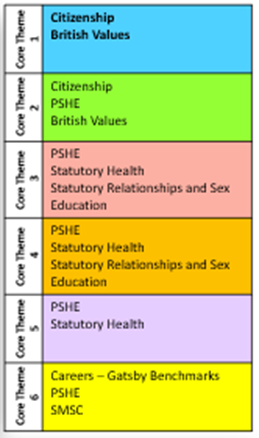 We deliver our comprehensive PSHE Curriculum through a Thematic Approach, in the six spiral Core Themes across KS3 and KS4 and planned assemblies, according to the needs, interests and strengths of our pupils. We at CoPA believe in providing a modern, exciting, high quality and engaging PSHE Curriculum for all our students no matter what background they are from. Each Unit is designed to meet the Statutory Relationships and Sex Education 2020 and Compulsory Health Education 2020.

At CoPA we thrive on working together in partnership with pupils, parents, carers, colleagues, visitors and other professionals to provide every opportunity for our pupils to excel and be the best that they can be. We recognise that this is only possible when our pupils are safe and can make safe decisions. We believe that a robust PSHE Curriculum is paramount in preparing our pupils to make and carry out these decisions.
What is Statutory?
The statutory Relationships and Sex Education (RSE) and Health Education are included within our whole-school PSHE Programme.
"The Relationships Education, Relationships and Sex Education and Health Education (England) Regulations 2019, made under sections 34 and 35 of the Children and Social Work Act 2017, require all schools from September 2020 to deliver Relationships Education (in primary schools) and Relationships and sex education (in secondary Schools). Health Education is compulsory in all schools except independent schools.