Uniform
The Academy has strict guidelines on dress and all pupils will be expected to wear the full Academy uniform. The wearing of our distinctive uniform gives pupils a sense of 'belonging', helps foster a pride in the Academy and stops pupils coming to the Academy in unsuitable clothes.
There are two distinct Academy uniforms:
Year 7 and 8 pupils will wear a uniform based on a purple pullover
Year 9, 10 and 11 pupils will wear a uniform based on a black pullover
Pupils are expected to wear the Academy uniform when travelling to and from the Academy, at all Academy functions and on visits by parties or sports teams. Parents are strongly advised to supervise the purchase of all clothing which is to be worn in the Academy and when there is doubt, to check in advance with the Academy to find out whether or not a particular item will be acceptable.
Years 7 and 8: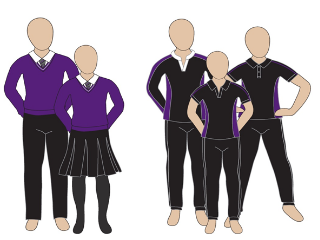 Years 9, 10 and 11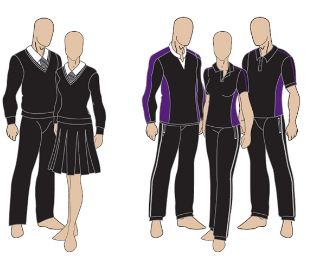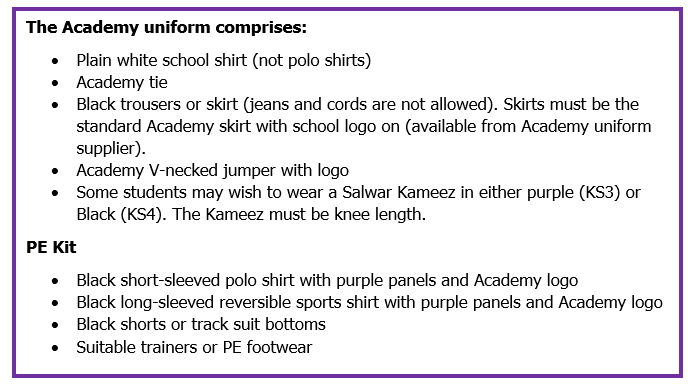 Nails must be a sensible length and a natural colour. False nails are not permitted in the Academy.
The Principal's decision on all items in the uniform section is final and binding
Electrical items, such as MP3 players and mobile phones are also not allowed in the Academy and will be confiscated if found.
Uniform can be ordered by visiting the following website:
https://www.chromasport.co.uk/shop/city-of-peterborough-academy (link to Chroma sport on page opposite)
Contact details for ChromaSport:
Unit 10, Wulfric Square Bretton
Peterborough, Cambridgeshire
England, PE3 8RF
Τ: 01733 262526