Uniform
The Academy has strict guidelines on dress and all pupils will be expected to wear the full Academy uniform. The wearing of our distinctive uniform gives pupils a sense of 'belonging', helps foster a pride in the Academy and stops pupils coming to the Academy in unsuitable clothes.
There are two distinct Academy uniforms:
Year 7 and 8 pupils will wear a uniform based on a purple pullover
Year 9, 10 and 11 pupils will wear a uniform based on a black pullover
Pupils are expected to wear the Academy uniform when travelling to and from the Academy, at all Academy functions and on visits by parties or sports teams. Parents are strongly advised to supervise the purchase of all clothing which is to be worn in the Academy and when there is doubt, to check in advance with the Academy to find out whether or not a particular item will be acceptable.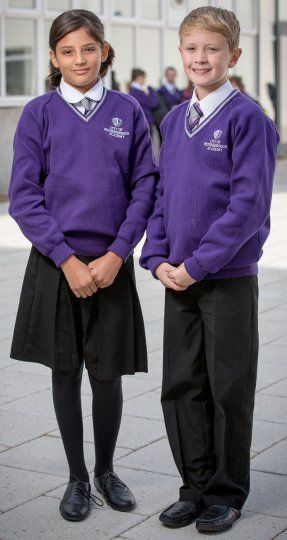 Jewellery is not allowed, except for one pair of small plain, gold coloured ear studs. Jewellery is not allowed, except for one pair of small, plain gold ear studs. Ear rings, rings, nose studs or other facial jewellery, nail varnish and make up are not allowed. Electrical items, such as MP3 players and mobile phones are also not allowed in the Academy and will be confiscated if found.
Shoes should be black and sensible for school use, flat soled or with very low heels, no more than half an inch at the front of the heel. High heeled shoes are quite unsuitable and are dangerous on our school sites. Boots or trainers should not to be worn.
Excessive hair styles are not permitted. This includes unnatural hair colours and hair cuts of an extreme nature.
The Academy uniform comprises:
Plain white school shirt (not polo shirts)
Academy tie
Black trousers or skirt (jeans and cords are not allowed, skirts to be no shorter than knee length)*
Academy V-necked jumper with logo
Black or grey socks with trousers, white socks, neutral or black tights with skirts.
Some pupils may wish to wear a Salwar Kameez, in either purple (KS3) or black (KS4). The kameez must be knee length.
* Girls trousers must have a high enough waistband to ensure they are modest enough to be worn on the Academy site and to allow shirts to be properly tucked in. They must not be tight-fitting. Wide belts are not allowed.*
PE KIT
Black short-sleeved sports polo shirt with purple panels and Academy logo
Black long-sleeved reversible sports shirt with purple panels and Academy logo
Black track suit bottoms with grey stripe
Suitable trainers or other PE footwear
Years 7 and 8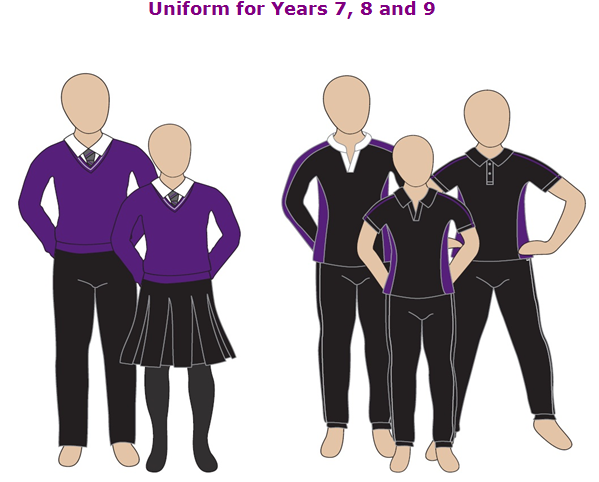 Years 9, 10 and 11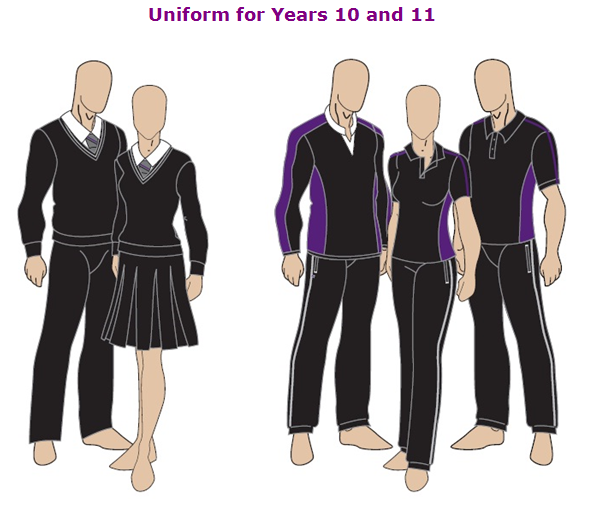 The Principal's decision on all items in the uniform section is final and binding.
Uniform can be ordered by visiting the following website: